The UEFA Nations League has been broadly welcomed by football fans and pundits since its introduction at the beginning of the 2018-19 season. As we embark on the final set of fixtures in the group stage of the inaugural Nations League there is still a lot to be settled. The coming matches, therefore, will play a very important role in the future of many international managers.
The Nations League has given the November international break increased importance in the international football calendar but it's long been an important time in the Premier League. Traditionally, this is the time of the year when many underperforming clubs lose patience with their managers.
By this time last season, Frank de Boer, Craig Shakespeare, Ronald Koeman, Slaven Bilic and Tony Pulis had all been sacked from Premier League clubs. Thus far, no top flight club has yet pulled the trigger but there is more than one manager fearful that chairmen will use the break in domestic football to take action. Even if all 20 managers remain in post for the return of the Premier League in two weekend's time, it surely won't be long until the first managerial casualty.
As with almost everything in the crazy world of the Premier League, there is money to be made with the managerial sack race. The best bookies all take odds on the next Premier League manager to be sacked whilst some will allow you to bet on a time of departure of individual managers. With that in mind, we thought it would be a good idea to run the rule over those managers who are most in danger of the chop.
How Long Can Jokanovic Live on Past Glories?
When teams win promotion from the Championship it is necessary for preparations for life in the Premier League to begin instantly. For the most part, that means clubs need to flex their new found financial muscle to strengthen their team. Managers have a tough job working out how much loyalty they should show to the players that won promotion and where it is necessary to look elsewhere for reinforcements. Unfortunately for many of those managers, it is often they who feel the brunt of a lack of loyalty.
Slavisa Jokanovic was the last of the three promoted managers to be able to start planning for the Premier League. Fulham won their place back in the top flight via the playoffs which was great at the time but it did leave them playing catch up with Wolves and Cardiff. Those fears appeared to have been dispelled when Fulham spent around £100 million on new players but is has since become clear that Jokanovic has an almost laughably unbalanced squad to work with.
Fulham are rock bottom of the Premier League after 12 matches. The obvious problem for the Cottagers is that they have conceded 31 goals so far. That's one of the worst defensive records ever seen in the Premier League at this stage of the season. In his defence, Jokanovic has seen a lack of investment in his defence compared to other areas of the team but he has not helped himself by a selection policy that's bordered on a scatter gun approach.
The lack of any sort of consistency in defence has surely made life tougher for the coaching staff to solve Fulham's defensive crisis on the training pitch. Perhaps most concerning for Fulham fans, however, is the fact that only four teams have scored fewer goals than their side this season.
Fulham look a real mess from front to back so it is no surprise that Jokanovic is the odds-on favourite with the bookies to be the first Premier League manager to lose his job. The Croatian manager has felt the ruthlessness of English football before as he failed to secure a contract with Watford despite taking the Hornets into the top flight in 2015.
He claims he retains the support of Tony Khan who runs Fulham alongside his dad, Shahid, but there is only so long he can dine out on last season's success so Jokanovic is likely to be the first Premier League manager out of the door with David Moyes looking like an interesting option in the next Fulham manager market at 11/2 with Betfair.
Fulham Update: Jokanovic Out as Ranieri Appointed
Shortly after posting this article, Fulham acted in the manager market by dismissing Slavisa Jokanovic and appointing Italian Claudio Ranieri on what they called a 'multi-year' contract.
Fulham have sacked manager Slavisa Jokanovic and replaced him with former Premier League-winning boss Claudio Ranieri.https://t.co/QAit7dlhct pic.twitter.com/TWK7am09XQ

— BBC Sport (@BBCSport) 14 November 2018
Ranieri, who famously won the League title with Leicester City in 2016, has also manged Chelsea in the Premier League. The 'Tinkerman' returns to England after a season with Nantes in Ligue 1, a position he took after losing his job a Leicester only months after leading them to that title. He has also been in charge of Valencia, Atletico Madrid, Juventus, Roma and Inter Milan amongst other clubs as well as the Greek national team.
Home Support Turning on Hughes
The foundations for Southampton's return to the Premier League were laid long before they won promotion in 2012. The Saints had developed a well-earned reputation for being one of the best, most progressively run clubs in English football. The club's ownerships invested large sums on the analysis, training and scouting set up at St Mary's and reaped the rewards by making a number of excellent signings and managerial appointments. The problem with setting such high standards is that it takes a lot of work to maintain them and the appetite to do that is waning at Southampton.
Having been obsessed with improving for the best part of a decade, it now appears very much as though Southampton are aiming for stasis. The club's owners are happy to be part of the Premier League but you don't remain amongst the elite of English football for very long unless you maintain that thrust for improvement.
The competitive nature of the Premier League means that any team who simply tries to maintain their current levels will soon be found out. That's what has happened to Southampton who have flirted with relegation for a couple of years now. The club's change in direction was made clear last season when they abandoned the manager they had previously put their trust in, Mauricio Pellegrino, and appointed Mark Hughes on a short term contract to try and stave off the threat of relegation.
To his credit, Hughes did just about enough to guide the Saints away from trouble. The question is, was it enough to warrant the club rewarding him with a three year contract? Few Stoke, Man City or QPR fans will be surprised to see their club's former manager is struggling at Southampton and the St Mary's faithful are losing patience with Hughes as well. The new approach taken by the Southampton board gave Hughes a job but it could also see him out on his ear sooner rather than later as they hit the panic button once again.
Dyche No Longer Looks Untouchable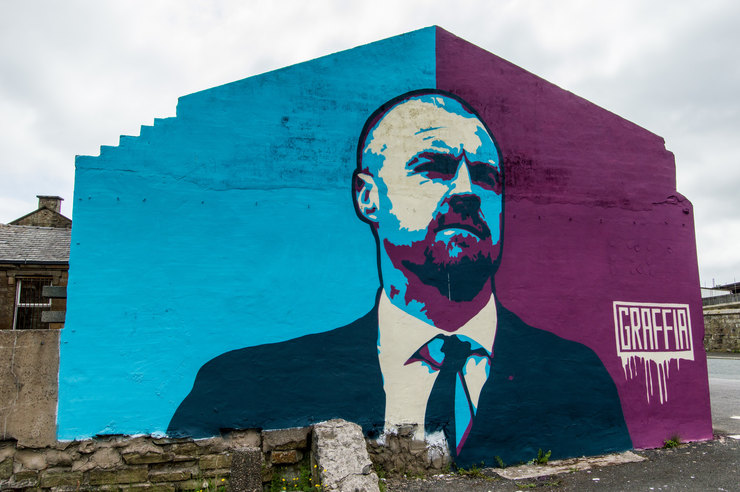 If you ever need an example of how long a year is in the world of football you only have to look at Sean Dyche. Just 12 months ago you could barely turn on the radio without hearing a pundit saying what a disgrace it is that English managers like Dyche aren't given the chance to take control of a top level Premier League club. Fast forward to the present day and all the talk about Dyche is whether or not he has what it takes to arrest the slide that Burnley find themselves in.
The Clarets were so consistently good last season that they won a place in the qualifying stages of the Europa League. They made steady progress through the early rounds before falling at the final hurdle against Olympiacos. That failed qualifying campaign was used by many as an excuse for Burnley's poor form domestically but the improvement that came after their European dream was ended proved to be very short lived.
Burnley's hallmarked ability to remain in matches thanks to their rugged defence has all but vanished. After 12 matches only Fulham have conceded more goals than the Clarets and it's the way that they appear to give up in games that will be of most concern to the Burnley board.
Dyche rightly has a huge amount of goodwill around the club and the board famously stuck with him even after he was unable to keep Burnley in the Premier League at the first time of asking. There are those who will say that anybody questioning Dyche's position at Burnley is mad given all that he's done for the club. But the board have stuck with him through good times and bad because they always trusted in his methods and that he was moving the team in a positive direction. It's tough to argue that is the case this season so could Dyche provide value in the betting for the next Premier League manager to leave his job at 40/1 with BetVictor?
Could Warnock Be a Victim of His Own Success?
The bookies' odds suggested that Cardiff had more chance of being relegated into League One than promoted to the Premier League last season. That tells you everything you need to know about the job that Neil Warnock did with the Bluebirds. The wily old manager has a knack for getting the best out of players and his often confrontational style motivated his players to incredible success during the last campaign.
Everybody at Cardiff City owes a debt of gratitude to Warnock for at least giving them one season back in the Premier League. One season was all that most fans believed Cardiff would last when the current season began but a few of those doubters have begun to change their mind following recent performances.
As you would expect from a side managed by Warnock, Cardiff don't do much that could be described as complicated. They compete for every single ball, make the most out of set pieces and play a style of football that is as uncompromising as their manager. By sticking to what has worked previously the hope is that Cardiff will once again be able to make up for a relative lack of quality and finish above at least three teams.
Warnock knows that beating the teams around them in the table and at the Cardiff City Stadium will be vital in any chance Cardiff have of staying up. He'll therefore be delighted with the home wins over Fulham and Brighton but will that success actually play against his chances of seeing out the season?
The further Cardiff's season goes from looking like a free hit, the more damaging a dip in form will be to Warnock. His position will remain strong if he can keep positive results coming in so it's probably not worth backing Warnock to be the next Premier League manager to be sacked just yet. They have a tough run of fixtures around Christmas before a couple of winnable games against Huddersfield and Newcastle. That could be the pivotal time for Warnock so keep an eye on his odds of being sacked and either get on when he gets to 30/1 or above or wait until a couple of managers bite the bullet.