As one of the oldest bet types in the world, each way betting is still as relevant today as it's ever been. It's a bet that allows people two cracks at the whip, given that it's broken down into two parts.
The bet is probably not as common with football betting as some other sports, but it's still one that can be utilised for a wide range of betting markets. If you are new to the concept of each way betting, or even betting in general, then it's a handy tool to have in your betting armoury.
Throughout this article we are going to look at how the each way bet works but specifically for football betting. Most people associate the bet with horse racing, and this is fair as it's here that each way betting is most widely used; however, football is just one of a number of sports where it can be used and used very effectively at that.
 What is Each Way Betting?
An each way bet is broken down into two parts; the place and the win. This means that you have two chances of getting a return on your investment, although one side of the bet gives you a much smaller return than the other.
It starts by selecting your wager amount. If you were to say that you wanted to bet £10 each way, this would mean that you would place £10 on the win and £10 on the place, making a total wager of £20. If you are betting in a betting shop make sure that you are aware of this. Many inexperienced punters state "£10 each way" when they actually want their total stake to be £10, which would technically be £5 each way. When betting online you can instantly see your overall stake on the betslip, so it is much easier and avoids any public embarrassment too!
The first part of the bet is for that selection to win. The odds that you accepted when placing the bet apply here, and if your selection wins then you get your return based on those odds. Nice and simple. If the selection fails to win, then this 'win' part of the bet loses, along with half of your stake.
The second part of the bet is the 'place' bet. This is where you bet on the selection to finish within a certain number of positions. For football this is usually the top 2 spots for the market that you are betting on, but with horse racing it can be the top 4 or 5 finishers. The bookmaker will give you a fraction of the odds taken for the 'win' part of the bet (usually ¼ in football) to create your 'place' bet. If your selection finishes within those top two spots then your place bet wins and you get paid put at a quarter of the original odds.
The best result, however, is if your selection finishes in 1st place, because then your bet will be paid out on both the win and the place. If it only finishes in the place spot and fails to win then you just get paid for the place money. If it fails to win and fails to place then your overall bet loses.
Each Way Football Bet Example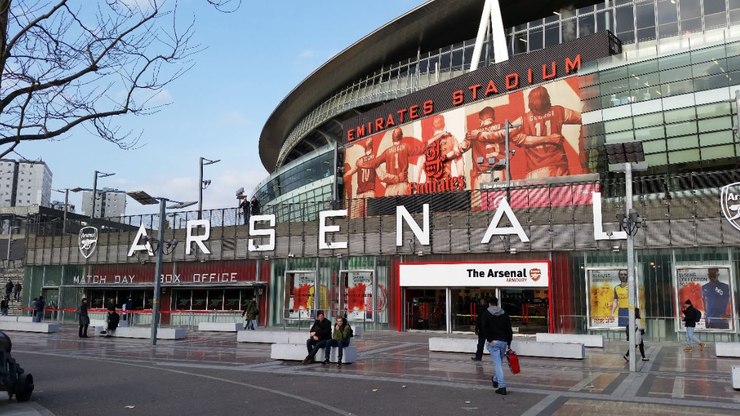 If you still need some clarification then going through a working example is probably the best way to do it. For football betting, you may have already picked up on the fact that you need markets where teams can come 1st or 2nd to make use of an each-way bet. This means that they need to be league/cup based bets for the most part, although there are others which we will cover later in the article. For this example though, we are going to concentrate on league betting.
We have decided to place a bet on Arsenal to win the Premier League at odds of 10.00. The first thing we want to look at are the each way terms as these can differ between bookies. We can see that our bookmaker is paying top 2 places for each way bets and paying at ¼ odds for the place bet. This is pretty standard, but if a bookmaker is offering smaller fractions than ¼, then we would advise to find a bookie offering better value.
We decide that we want to bet £10 each way. So this means that we have £10 on Arsenal win at odds of 10.00, and £10 on to place (finish within top 2 spots) at odds of 2.50, which is ¼ of the 10.00 starting odds.
Scenario 1 – Arsenal win the league
Great news, Arsenal have won. This means that we get paid on the win bet: £10 x 10.00 = £100
It also means that we get paid on the place part as well: £10 x 2.50 = £25
Total returns = £125
Total profit = £125 – £20 stake = £105
Scenario 2 – Arsenal finish 2nd
The win part of the bet would lose, so we lose our £10 stake.
But, the place part of the bet would win: £10 x 2.50 = £25
Total returns = £25
Total profit = £25 – £20 stake = £5
Scenario 3 – Arsenal finish 3rd or lower
This would mean that we miss out on the win bet and also on the place bet.
Total Returns = £0.00
Total profit = Negative £20.00
As you can see, the place bets don't return all that much money, but it will mean that in most cases you at worst get your stake back and even a little bit of profit as well. The bet is designed to offer a bit of security for selections that may have an outside chance of winning. Arsenal winning the league is a prime example of that in that yes, they have a chance, but they aren't the absolute favourite. Sorry Arsenal fans!
Each way betting can be put to good use with markets like this, and even though you should always be betting on selections that you think at least have a decent chance of winning, an each way bet has you covered if they fall short.
Football Market's with Each Way Potential
As we have already mentioned in this article, football doesn't have a huge following with each way betting fans, and that's because there aren't a huge number of markets that you can use it with.
The majority of markets that do qualify come in the form of league and cup betting, and whilst this is fine, you need to be prepared to wait them out as they can often take weeks or even months to complete.
League Betting – Betting each way on a team to win the league allows you to cover, usually, the top two places. Odds should be no shorter than ¼ starting price with your bookmaker, and if they are shorter than this you should look to bet elsewhere.
Cup Betting – This is where you bet on the outcome of a cup competition, like the FA Cup, League Cup, Champions League Europa League etc. For cup games you will be betting on the team to make the final in most instances. So, the winner will obviously be the winner, but the place prize will be to the losing finalist.
Top Goalscorer – The top goalscorer market is where you bet on a player to score the most goals throughout a season or tournament. These markets are much bigger than league betting, so most bookies will pay top 4 spots and ¼ odds for the place bets. These may shrink slightly for closed cup competitions.
First Goalscorer – This is one of the few markets that you can bet each way within a match. It works by paying out full price if that player scores first but it will also pay out on the place if the player scores any time in the match. They are actually really good bets to place as they pay 1/3 odds and unlimited places with most bookies, so even if they score the fifth goal of the match and in the 90th minute, your place bet still wins.
Final Thoughts
Each way betting is not as popular with football betting as it is with other sports, but we think that it's a massively underused market for football betting that should be taken advantage of more often.
Granted, the range of markets that you can use it with are a little limited, but if you are anywhere around the league, cup, or goalscorer bets, it's a market that will serve you well.
These bets are at their absolute best when used with the first goalscorer. The fact that most bookies pay as high as 1/3 of your odds and offer unlimited places is extremely flexible, keeps your bet alive for as long as the player is on the pitch, and offers excellent value.
It is worth noting that for odds shorter than around 5.00 you should probably consider looking elsewhere, as each way bets start to become a little tight when it comes to the return on the place; for example, ¼ of 5.00 is odds of 1.25 which isn't going to get you much of a return at all.