There was nothing unusual about the football that had taken place on Saturday 27th October 2018. Leicester were involved in the day's late kick-off versus West Ham, a somewhat frustrating affair for the Foxes who struggled to make the most of their man advantage. A late goal from Wilfried Ndidi did help lift the mood at the King Power stadium but later in the evening the club would be rocked by devastating scenes just outside the ground.
What was seen could scarcely be believed, a flaming wreckage in the adjacent car park, the helicopter belonging to Leicester chairman Vichai Srivaddhanaprabha. Amateur footage of the carnage sent shockwaves around the footballing world with players quick to send out their thoughts and prayers. A day later the club confirmed that chairman Vichai Srivaddhanaprabha, along with four others, tragically passed away in the incident. Here we take a look at the man who became such a much-loved figure at the club and the legacy he left behind.
Where it all began for Srivaddhanaprabha
Vichai Srivaddhanaprabha was born on 4th April 1958 in the capital of Thailand, Bangkok. He was not raised in the sort of wealth he eventually amassed, having to graft hard from more humble origins. It was only in 1989 when his company, King Power, were granted their first licence to operate in Mahatun Plaza, creating the first downtown duty free shop. After some initial success, King Power began to expand and six years later they won the race to be the sole concession operating duty-free shops at Don Mueang Airport. Further expansion followed and in 2004 the company received huge news when granted the right to operate in Bangkok's new, Suvarnabhumi Airport.
His success, in addition to his charitable work, saw him bestowed a new surname courtesy of King Bumibol, who was then the world's longest serving monarch. Born Vichai Raksriaksorn, the Thai billionaire's new name meant, 'light of progressive glory'. It was being on good terms with the monarchy and politicians that allowed Srivaddhanaprabha to thrive in Thailand. By 2018 he had wealth estimated at around £2.9bn, making him the fifth richest man from his country.
Leicester takeover
Milan Mandaric sought to move his footballing interests from Leicester City to Sheffield Wednesday in 2010. He needed a buyer for the Foxes however before he could complete his takeover of the Yorkshire club for just £1. Asia Football Investments were willing to stump up the £39m demanded for the control of Leicester, a consortium led by Vichai. At the time the price didn't seem particularly out of the ordinary but by 2018 the Foxes were thought to be worth at least 10 times this figure. Weeks later Srivaddhanaprabha, or rather Raksriaksorn as he was known back then, was named as chairman, with his son Aiyawatt second in command.
Mandaric had insisted the club would be in a safe pair of hands, claiming that the new Thai owners were "wonderful people" who "love the club, love the people and are capable of supporting the club financially."
Generally the news of some financial investment was met with cautious optimism from the Foxes faithful who were hopeful of seeing more money pumped into the club. Some fans remained sceptical of how much money the club itself would actually receive though while others expressed concern at the some of the controversy King Power's dealings in Thailand has attracted.
Early disappointment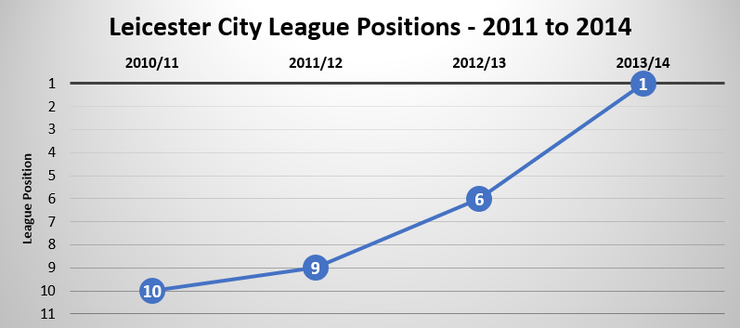 The season that the Asia Football Investments took over the club, Leicester City wound up 10th in the second tier of English football. There were hopes of reaching the play-offs, a feat they had managed the previous season, but a poor patch of form between February and April saw them fall short. Sven-Goran Eriksson was in the man in charge off the pitch and he was the man tasked with spending Leicester's significantly increased transfer kitty. With this money the Swede purchased players such as Kasper Schmeichel, Danny Drinkwater and Wes Morgan, three players who would be instrumental in Leicester's incredible title victory four years later.
Despite plenty of summer spending, Eriksson failed to see a quick return, leading to his dismissal after 13 matches. Nigel Pearson was appointed as Foxes manager for the second time but things failed to improve with Leicester only finishing one place higher than the season before.
In spite of this, the new Thai owners stuck by Pearson and the former Sheffield Wednesday defender guided the Midlands outfit to the play-offs the next season. Just like in 2010, the play-offs were the source of heartbreak from a missed penalty. Anthony Knockaert was the guilty man this time as his missed spot kick allowed Watford to run up the other end and score with seconds to go in one of the most dramatic endings to a game possible.
There would be no need for the play-offs in the 2013-14 season as the Foxes secured automatic promotion, putting an end to a five year stint in the Championship. Interestingly, it was a season that saw Leicester spend little of Srivaddhanaprabha's money, with Dean Hammond and Riyad Mahrez being the only two men not brought in on a free transfer. Having already built solid foundations in the previous two seasons though, Pearson's men were able to storm the league, finishing nine points clear of their nearest challengers Burnley.
Premier League return
Having secured their place back in the top flight of English football, Leicester handed boss Pearson a handsome transfer budget in an attempt to boost their survival chances. The bulk of the money was spent on two men, Leonardo Ulloa and Andrej Kramaric, for a combined £17m. The fee seems most modest by today's standards but both transfers were record breaking ones for the club. Kramaric, a January recruit, failed to find his feet at the club but Ulloa's 11 goal haul proved instrumental in Leicester's survival. Also playing a major role was that of Argentina veteran Esteban Cambiasso, who still had plenty to give at 34-years-old.
Leicester became only the third team in Premier League history to survive the drop after being bottom at Christmas. An unexpected revival in the second half of the season saw them stay up quite comfortably, handing Pearson some much needed job security, or so it seemed. Despite achieving what seemed an impossible task of keeping the Foxes afloat, the Leicester board sacked their manager citing a collapse in their working relationship. It had been reported that Pearson was unhappy with the decision that son, James, had his contract terminated due to his involvement in a racist sex tape while on tour in Thailand.
The miracle season
"We've just won the league!"

Jamie Vardy, @premierleague winner: https://t.co/ConjPbNMY3#havingaparty pic.twitter.com/xZJb0Hqddo

— Leicester City (@LCFC) 9 May 2016
Keen to employ a more mild-mannered manager, Vichai Srivaddhanaprabha turned to the Italian Claudio Ranieri who had been without a job since a disastrous spell in charge of Greece. His complete failure with the former European Championship winners didn't make him a particularly popular choice but how quickly he proved the doubters wrong.
Around £27m was spent on transfers the summer he arrived but it was the £5.6m spent on N'Golo Kante that proved to be priceless. The then unknown Frenchman enjoyed a sensational season at the club and without him there's little doubt that Leicester would not have won the title.
At first the notion of Leicester, who were priced pre-season at 5000/1 among some bookies to win the league, being crowned Champions was laughed off. By Christmas however, with the Foxes still in first place, the possibility of them doing the imaginable did not seem quite so farfetched. That said, even as they continued to defy their critics into early spring, many experts still expected them to fall away. However, the momentum never died for the Foxes and they ended up claiming their first top fight title with a 10 point buffer.
Keen to join in with the celebrations, Srivaddhanaprabha forked out nearly £2m to gift each Leicester player a BMW i8, just one of many examples of his huge generosity.
League success not Srivaddhanaprabha's only triumph
It's managers and players who receive the bulk of the praise for a club's on the field success but Srivaddhanaprabha is not a man that Leicester fans forgot about. The chairman of their club endeared himself to the fans by offering them free beer and donuts, subsiding away tickets and capping the increase on season tickets.
Free donuts & beer for the fans @LCFC today. Champagne next? #LEISOU pic.twitter.com/o67fxnFigX

— BoyleSports (@BoyleSports) 3 April 2016
His role in the community did not go unnoticed either, such as when donating huge sums to local hospitals. While a savvy business man, Vichai never sought the media spotlight for his acts of generosity. He arrived at the club as a foreign investor but his genuine passion for the club and willingness to listen to the fans made him an incredibly popular figure.
The respect for Srivaddhanaprabha was perhaps best seen in the heartfelt messages left by the Leicester players keen to pay their respects. Kasper Schmeichel had these touching words to say "You had time for everyone. You touched everyone. It didn't matter who it was, you had time for them. I always admired you as a leader, as a father and as a man." Ben Chilwell described his former chairman as "one of the best people you could wish to meet" while Jamie Vardy said he was "an incredible man who had the biggest heart, the soul of Leicester City Football Club." Messages of such nature poured in from all Leicester players, past and present, who have been devastated by his tragic passing.
Devastated.
A generous, kind man who always had a smile on his face. Always believed in us and never stop supporting us. I'd like to Thank You for helping me and everyone involved with the club including the fans achieve such amazing things. Dreams.💙
RIP, 🙏🏽 #TheBoss pic.twitter.com/N3avlRe60J

— DG7 (@22Demarai) 28 October 2018
Vichai Srivaddhanaprabha touched so many people and he will not be forgotten by Leicester City, a club he forged such a special bond with. The Thai businessman, who remained so humble, instilled a culture of kindness and respect that will hopefully last for years to come. Foreign investment will continue to arrive in the Premier League but Vichai Srivaddhanaprabha has set a shining example of exactly how it should be done.