Manchester City fans have a number of people to thank for the club's complete transformation over the last 10 years or so; Vincent Kompany is right at the top of that list. The Belgian centre-back arrived at the club with a growing reputation as a fearsome and intelligent defender who the City fans were excited about but nobody could predict what a colossus he would become.
Kompany quickly became a rock at the heart of the Man City defence. His quality was proven as almost the entire team around him changed but he remained at the forefront of every new manager's plans. Away from his technical qualities as a midfielder, Kompany grew into an important leadership role which included taking new players under his wing, standing up for his teammates on the pitch and representing the club off the pitch.
All good things must come to an end though and it now appears as though the Man City hierarchy will decide against extending the 32-year-old's contract for another 12 months. Nobody doubts that he is still a world class defender and that he adds a huge amount to the dressing room (anybody who watched the All Or Nothing on Amazon saw that), but Kompany's body just can't cope with the demands of Premier League and Champions League football anymore.
As Pep Guardiola put it, "He's incredible but the reality is in the last five years he's played few, really few [games]". Kompany has achieved great things in his career but he will surely have questions about what heights he could have reached were it not for the chronic injury problems that have dogged him.
Kompany is far from the only world class player who found their career either hampered, curtailed or both by injury. With that in mind, we've picked out seven Premier League players who could have been so much more were it not for the injury problems they suffered.
Michael Johnson
| Club | Years | Appearances (Goals) |
| --- | --- | --- |
| Manchester City | 2006 – 2012 | 37 (2) |
| Leicester City (Loan) | 2011 – 2012 | 7 (0) |
We start with another player who Manchester City fans will remember with more than a tinge of regret. Michael Johnson came through the City youth system (as well as that of Everton and Leeds) so always received extra support from the club's fans when he made his breakthrough into the first team.
That support was more than just heart over head though as it quickly became clear that Johnson was something special. Injury first hit in late 2007 as an abdominal problem hinted at things to come. He recovered from that to get back into the team but his career was turned upside down due to a serious knee injury suffered in training.
Johnson was never the same player and made just four first team appearances in his final five years with Man City. That showed how desperate the club was for him to rediscover form and fitness but he eventually called it a day, retiring at just 24.
Dean Ashton
| Club | Years | Appearances (Goals) |
| --- | --- | --- |
| Crewe Alexandra | 2000 – 2005 | 177 (74) |
| Norwich City | 2005 – 2006 | 44 (17) |
| West Ham United | 2006 – 2009 | 46 (15) |
England lost out on a potential star with Michael Johnson and the same is true of Dean Ashton. The striker was a product of the famed youth system at Crewe Alexandra and the quality of the coaching he received quickly became clear when he was given a chance to play for the Crewe first team at just 16.
Ashton went on to make a total of 177 appearances for Crewe, scoring 74 goals. His goal scoring prowess was enough for Norwich to sign him in the hope of avoiding relegation from the Premier League. It was not to be but Ashton was back in the top flight shortly after with West Ham.
He made an instant impact with the Hammers, quickly becoming a key part of the squad that made it to the FA Cup final against Liverpool.
Ashton scored in that final but was disappointed not to make it into the England squad for the 2006 World Cup. Ironically it was after winning his first England call up the following season that he broke his ankle after a reckless training ground tackle by Shaun Wright-Phillips. That injury kept him out for the season and although he worked his way back and earned a new contract, he sprained the ankle again and suffered continuous setbacks until announcing his retirement at 26.
Jack Wilshere
| Club | Years | Appearances (Goals) |
| --- | --- | --- |
| Arsenal | 2008 – 2018 | 125 (7) |
| Bolton Wanderers (Loan) | 2010 | 14 (1) |
| Bournemouth (Loan) | 2016 – 2017 | 27 (0) |
| West Ham United | 2018 – Present | 5 (0) |
Sticking with West Ham brings us to Jack Wilshere. The teenage Wilshere was an absolute revelation after breaking the record to become Arsenal's youngest ever player at 16 years, 256 days. Wilshere went on to have a loan spell at Bolton which he credits with toughening him up before his passing, dribbling and versatility made him an Arsenal star.
A call up to the England first team was not far behind (at the age of 18) and he was even called "the future" by Fabio Capello who envisaged him playing a starring role in the centre of midfield. It was soon after that praise that Wilshere suffered his first serious injury, a fractured ankle in a pre-season friendly. His recovery initially looked as though it was going according to plan but he suffered several setbacks which would, unfortunately, be the theme of his Arsenal career which ended for good with a transfer to West Ham.
Wilshere made just a handful of performances for the Hammers before suffering yet another injury setback. At the time of writing, Wilshere is struggling to recover his fitness and the next couple of seasons will be pivotal to see whether he can fulfil his potential or become another player forced to retire early.
Ledley King
| Club | Years | Appearances (Goals) |
| --- | --- | --- |
| Tottenham Hotspur | 1999 – 2012 | 268 (10) |
Ledley King, like Vincent Kompany, was much more to Tottenham than just a world class centre back. He became a pivotal figure both on and off the pitch during his time as Spurs with several of his managers commenting on how important he was on the training ground and the dressing room.
As his career moved on his influence on the training ground admittedly became rather less important simply because he was unable to train and then play football at the standards which he expected of himself. That was due to a chronic knee injury which first reared its head when King was coming into the prime of his career during his mid-20s.
It is a mark of King's quality that he remained vital player both for Tottenham and England despite requiring a reduced training plan which often saw him training alone. Harry Redknapp went as far as to call King a "freak" for being able to play at such a high level but we will never know just how good he could have been were it not for that long-running knee problem.
Jonathan Woodgate
Club
Years
Appearances (Goals)
Leeds United
1998 – 2003
104 (5)
Newcastle United
2003 – 2004
28 (0)
Real Madrid
2004 – 2007
9 (1)
Tottenham Hotspur
2008 – 2011
49 (2)
Stoke City
2011 – 2012
17 (0)
Middlesbrough
2006 – 2007 (Loan)
30 (0)
2007 – 2008
16 (0)
2012 – 2016
57 (2)
Ledley King will surely have spoken at length with Jonathan Woodgate about the frustrations of being injured. The pair formed an excellent if infrequently seen partnership during their time together at Tottenham as both struggled with injuries at the same time.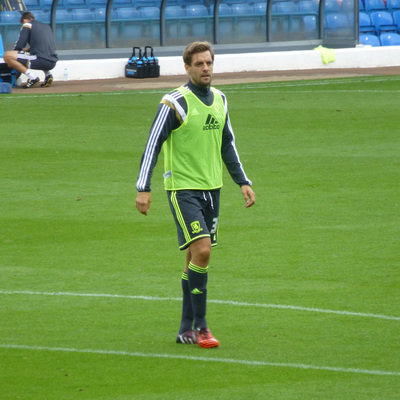 Long before signing for Tottenham Woodgate made a very early move from the Middlesbrough youth team to Leeds and it was with the Yorkshire club that he first made his name as a classy defender who was every bit as comfortable on the ball as his former teammate and sidekick, Rio Ferdinand.
Despite making over 100 appearances for Leeds, Woodgate's long battle with injury began during his time at Elland Road. It is to his credit that Woodgate was able to keep improving despite several setbacks, sealing a move to Newcastle and then Real Madrid. His time in Spain got off to an infamously bad start – he scored an own goal and got sent off on his debut – but he put that behind him to become an important part of the squad before injuries took their toll again.
From there moves to Stoke and back to Middlesbrough followed but Woodgate's career sadly petered out without him ever achieving what might have been possible for a player of his class.
Michael Owen
| Club | Years | Appearances (Goals) |
| --- | --- | --- |
| Liverpool | 1996 – 2004 | 216 (118) |
| Real Madrid | 2004 – 2005 | 36 (13) |
| Newcastle United | 2005 – 2009 | 71 (26) |
| Manchester United | 2009 – 2012 | 31 (5) |
| Stoke City | 2012 – 2013 | 8 (1) |
Some of the players on this list were never able to reach their potential whilst others got to the top of their powers but that's not the case with Michael Owen. In fact, Owen's best days arguably came early on in his career in the seasons after he made the transition from the Liverpool youth team to first team. Indeed, Owen was Liverpool's joint top scorer in his first season as a first team player and would be their top scorer for every season that he was at Anfield before moving to Real Madrid in 2004.
Owen failed to make too much of an impact in La Liga and made a swift return to England with Newcastle. Although he had his problems with injuries whilst a Liverpool player it was following his move to Newcastle that things really took a turn for the worse. Despite being in his mid-20s Owen missed the entirety of his first season with Newcastle due to a thigh injury.
A recall to the England squad quickly followed his return to full fitness but he played just one minute of the 2006 World Cup before suffering a horrible knee injury. He fought hard to get back to full fitness following that injury and did have good spells with Newcastle and Manchester United but only in fits and spurts and Owen was never the same player again.
Daniel Sturridge
| Club | Years | Appearances (Goals) |
| --- | --- | --- |
| Manchester City | 2006 – 2009 | 21 (5) |
| Chelsea | 2009 – 2013 | 63 (13) |
| Bolton Wanderers (Loan) | 2011 | 12 (8) |
| Liverpool | 2013 – Present | 109 (50) |
| West Bromwich Albion (loan) | 2018 | 6 (0) |
The next year will be pivotal in the career of Daniel Sturridge. The 29-year-old's contract at Liverpool is up at the end of the season and it looks unlikely that he will remain at Anfield beyond of the current campaign. That he has lasted this long is surprising to many as Sturridge was farmed out on loan to West Brom for the second half of last season only for yet another injury problem to curtail his appearances with the Baggies.
Like so many others on this list, Sturridge has forged a successful career which is to the envy of most other professionals. He's won trophies at both domestic and continental level and played 26 times for his country.
And yet, it could have been so much better were it not for a myriad of injuries hurting him at various stages of his career, most notably since joining Liverpool. Will he find a new club and finally get a run of games or will Sturridge continue to struggle before an early retirement like so many other supremely talented Premier League players before him.