As far as jobs in world football go, being in the hot seat at Manchester United is up there with the best of them. Although they are not in their prime, the Red Devils still top the list for most trophies won by an English club. They are a side with almost unrivalled stature and they have the ability to attract top players from across the globe. As appealing as it is lucrative, there will be no shortage of interested candidates for the vacancy at Old Trafford. Here we look at the four leading candidates for the position and assess their chances of being named as Jose Mourinho's permanent successor.
Ole Gunnar Solskjaer
Shortly after it was announced that Jose Mourinho and Manchester United had parted ways, Ole Gunnar Solskjaer was named as caretaker boss. Still contracted to Norwegian side Molde, the deal saw the manager effectively head to England on loan until the end of the season.
The agreement initially seemed to be a good deal for both parties. United received a fresh face at the helm, someone able to inject some new ideas into a struggling team and yet also hugely familiar with the club's ethos and popular with the fans. Molde on the other hand will see their manager gain valuable experience at a huge club, experience that could make a real difference back in the Eliteserien.
There is a real danger for Molde now, however, that United may want their manager on a long-term basis. He took absolutely no time to lift the mood at Old Trafford, completely turning around a once underperforming side.
The 45-year-old has secured victory in his first five matches in charge of the English giants while also bringing back free-flowing attacking football. Amazingly, the Red Devils scored five goals in his first game as boss, the first time they had done that since Sir Alex Ferguson left!
The change in playing style has gone down brilliantly with the United faithful, who had grown tired with the regularly uninspiring displays witnessed under Mourinho. Should Solskjaer continue to impress, there's a good chance the powers that be will offer him a permanent contract. His side have done very well on the pitch, he's hit all the right notes off it and, on top of that, he is more than happy to work with a director of football, a post the owners are keen to include within the United hierarchy.
There is a danger of getting carried away with Solskjaer too quickly however. It's not unusual for a new manager to enjoy a honeymoon period, especially when they've inherited such an underperforming side that undoubtedly includes some world class players. The Norwegian has stated that he's "no tactical genius" and has regularly played down his role in United's turn of fortunes.
He hardly set the world alight at Molde either, failing to win the title since returning to the club for a second spell in 2015. A lot can change between now and the end the season and if the Red Devils hit a sticky patch expect to hear much, much less about Solskjaer and a permanent move.
| Candidate | Bookies' Odds | Likelihood |
| --- | --- | --- |
| Ole Gunnar Solksjaer | 3/1 | 6 out of 10 |
Mauricio Pochettino
There are many reasons why Mauricio Pochettino will be a highly sought after figure this summer. When he took charge at Spurs, the London club had just finished sixth in the league, 10 points adrift from the top four. Since then he's successfully secured Champions League football on three occasions and stands every chance of making it four this season. The Argentine also guided the club to their highest ever points tally in the Premier League (86), a total that would have been enough to win the league a season earlier.
Making his achievements all the more impressive is that he's done it all on a relatively tight budget. His net spend since joining Tottenham is around £30m which is £150m less than Liverpool and £500m short of Manchester City. Despite limited transfer funds, Pochettino and his scouting network have generally made their money stretch with some excellent buys while also keen to promote youth players. Salaries, a huge part of overall transfer spending, are also much lower at Tottenham than at all of their rivals.
Critics point out that he's yet to win any silverware but it's unfair to use this to diminish the progress he's made. There's certainly no Spurs fan who would trade him for their League Cup winning former boss Juande Ramos.
The talent appears to be there but would the 46-year-old want to move? In the summer of 2018 he did express some minor frustration at not being able to sign the players he wanted but his relationship with chairman Daniel Levy has remained healthy. Funds have only been restricted due to the construction of the new White Hart Lane, and this in itself is an exciting development.
There are many pundits, however, that see United as a club with a higher ceiling and one that can offer a bigger transfer budget and more lucrative personal salary. It's hard to argue with that and there is sure to be at least a part of Pochettino that longs to see how he would fair at such a club.
As tempting as the vacancy might be however, Pochettino appears to have ruled himself out of contention. He initially stayed coy when asked about his future but days before a league clash with Manchester United he stressed his desire to stay at his current club.
The Argentine said he's so happy with his current situation that he hopes to stay in north London for the next 20 years. Circumstances could change in the coming months but on the back of these comments, it's best to think he will not be the next permanent United manager, especially at such short odds compared to our other contenders.
| Candidate | Bookies' Odds | Likelihood |
| --- | --- | --- |
| Mauricio Pochettino | 6/4 | 2 out of 10 |
Massimiliano Allegri
Further down the betting to become United's next manager is current Juventus boss Massimiliano Allegri. He's in no danger of being sacked by the Italian giants but he refused a contract extension on his current deal last summer.
Reports have stated that the Italian is keen on a new challenge having dominated Italian football year after year. The Old Lady have done the league and Coppa Italia double for the last four seasons running. Another league title appears to be in the bag too as they sat nine points clear of nearest challengers Napoli at the half-way point in the season.
It's easy to see why the former Pescara midfielder would want a change of scenery after such dominance. He's yet to manage outside of Italy, so he is a risk in this sense, but he does at least have a basic grasp of English. He even started lessons last spring, fuelling speculation of a move to Chelsea that never materialised.
A European title has long evaded him but he deserved credit for reaching the final on two occasions. Even in the absence of a Champions League trophy, his haul of silverware is more impressive than any other manager in contention for the United job.
With only a year and a few months left on his current contract, prizing him away from Juventus shouldn't be all that difficult. It's a job likely to pique his interest but would United want to swoop in for him? After enduring several months of lacklustre performances under Mourinho, the Red Devils board are keen for someone committed to exciting football. This is not something typically associated Allegri however.
When asked about his side's lack of attractive football in 2017, the Juventus boss responded "If I want a spectacle then I'll go to the circus. I want three points." Needless to say, this type of response would not go down well during an interview and could indeed come straight out of the Mourinho handbook!
| Candidate | Bookies' Odds | Likelihood |
| --- | --- | --- |
| Massimiliano Allegri | 8/1 | 3 out of 10 |
Zinedine Zidane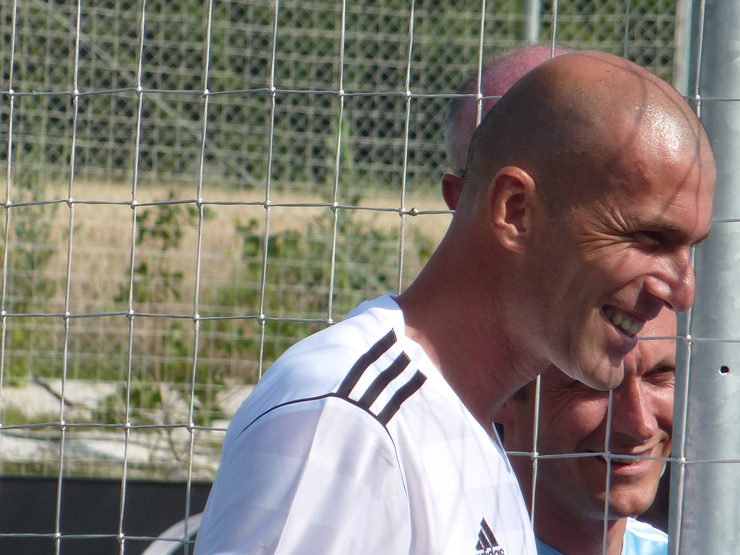 Should Allegri go elsewhere in the summer, the Juventus post might be one that appeals to Zinedine Zidane more than the role at United does. He's a much loved figured in Turin having spent five years there as a player and does already speak the language. The Frenchman does not speak English fluently yet and this is something that former teammate Christophe Dugarry believes could harm his chances of securing the United gig. It's a very rare sight to see a Premier League manager without a decent grasp of English but it did not hold Mauricio Pochettino back at Southampton and lots of other bosses have come in a similar situation.
Zidane has the least experience of the names on this list but his three seasons managing Real Madrid proved to be a great success. He guided Los Blancos to three straight European titles, making them the only team who have managed such a feat on two separate occasions. There was less glory on the domestic stage but nevertheless when the Frenchman parted ways with the club, his stock could not have been much higher. Leaving on your own terms is something few Real Madrid managers achieve, with most fired by the trigger happy Florentino Perez.
Although his unexpected departure in 2018 created shockwaves around the footballing world, looking back it makes a great deal of sense. His side finished 17 points off Barcelona in La Liga and were at times outplayed in the Champions League. The World Cup winner stated upon his departure that "I feel it's going to be difficult to continue winning. And because I'm a winner, I'm going."
With United still in need of some substantial degree of work, this might not be a project that really appeals to him. He's a man who can afford to be choosy with what job he gets too, especially as he appears in no rush to make a return to management. All in all we think Zidane to Juve is the far more likely story.
| Candidate | Bookies' Odds | Likelihood |
| --- | --- | --- |
| Zinedine Zidane | 8/1 | 3 out of 10 |