With the new season of footballing action fast approaching, it is worth looking into which channels will be airing which leagues and competitions in the UK. There are no great changes to the usual order so if you were happy with your subscriptions last season, you are likely to be well served again for 2022/23. This does mean, however, that the Saturday 3pm kick-off blackout, which applies to Premier League, Football League and FA Cup fixtures, still remains. The only way of watching these matches legally therefore is to buy yourself a ticket, otherwise you will have to wait for the highlights.
Broadcaster
Competitions
Sky Sports
Premier League
English Football League
Carabao (EFL) Cup
EFL Trophy
Scottish Premiership
German Bundesliga
BT Sport
Premier League
National League
Champions League
Europa League
UEFA Conference League
Italian Serie A
French Ligue 1
Amazon
Premier League
BBC
Premier League Highlights
FA Cup
SPFL
World Cup
International Highlights (ex England)
UEFA Women's Euros
ITV
FA Cup
Carabao Cup Highlights
EFL Trophy Highlights
World Cup
Channel 4
Nations League (England)
Euro 2024 Qualifiers (England)
S4C
Nations League (Wales)
Euro 2024 Qualifiers (Wales)
Premier Sports
Spanish La Liga
Nations League (Scotland & N. Ireland)
Euro 2024 Qualifiers (Scotland & N. Ireland)
English Domestic Football
We'll start with the bread and butter of the domestic competitions in England. Most interest will of course be on the Premier League but we'll also explain where you can watch the English Football Leagues and Cups and also non-league football.
Premier League
In 2021, the Premier League renewed the same three-year £4.8bn TV rights deal that had been in place for the previous three years. As part of the agreement, Sky are entitled to the lion's share of televised fixtures, broadcasting 128 live matches per season, at a cost of £3.6bn. BT Sport follow in second place with under half Sky's amount (52 matches) while lastly there is Amazon who paid just £90m for the rights to show 20 fixtures per season. Between them they cover 200 of the 380 Premier League matches played each campaign, so even with the 3pm blackout, there is still much to enjoy.
For Premier League highlights, these will continue to be shown on the BBC's long-running Match of the Day show and this, like the above packages, is a deal that is in place until 2025. It is also possible to catch highlights via YouTube too though. Sky Sports Football has the right to upload highlights while clubs themselves often do so via their official channels.
English Football League
Although you now need three separate paid subscriptions to watch all televised Premier League action, this is not the case with the Football League as Sky Sports are the exclusive rights holders. As part of the agreement, Sky can show up to 183 matches from the Championship, League One and League Two. In addition to this, since 2019/20, Sky have been able to broadcast 80 midweek Championship matches through interactive/digital platforms, bringing the total number of games covered to over 260.
FA Cup/League Cup/EFL Trophy
As both the League Cup and EFL Trophy are EFL competitions, these both fall under the scope of the EFL rights deal mentioned above. So, in addition to being able to air live football from tiers two to four of English football, Sky can also show Carabao (League) Cup matches and EFL Trophy clashes. Showing a commitment to domestic cup competitions, the agreement allows Sky to show 15 League Cup matches each season plus both the semi-finals and final of the EFL Trophy. To catch highlights of either competition, these are something you will find provided by ITV.
As well as having League Cup and EFL Trophy highlights, ITV will also broadcast 20 FA Cup matches during the 2022/23 season. The competition is shared with fellow free-to-air rivals BBC who have a marginally smaller allocation of 18 matches. The two providers will always cover different matches throughout the competition with the exception of the final. For the showpiece event, the British public has the opportunity to pick which host they prefer as both BBC and ITV will show the Wembley final.
National League
So far we have covered all English football involving teams in the first four tiers of the game but what about clubs in the fifth tier, the National League? For this, BT Sport solely hold the rights, something they have done since 2013. More recently they renewed a three-year deal late in 2020, extending their current coverage to 2024. Under the arrangement, BT can show live matches including all end-of-season play-offs and weekly highlights of the regular season action.
Scottish Football League
Only Sky Sports has the right to broadcast live action from the Scottish Premiership in the UK. Under their current deal, they can show 48 matches in total from the top-flight, including all the end-of-season play-offs. All other Scottish Professional Football League coverage is handled by the BBC. BBC Scotland will show 27 live Championship matches while BBC ALBA has 38 delayed Premiership matches and six live second or third-tier contests.
UEFA Champions League, Europa League & Conference League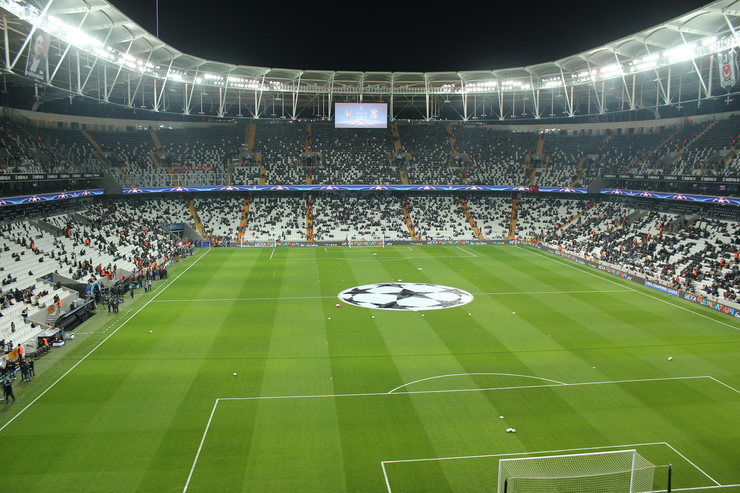 Moving onto continental football now and BT Sport is the only place that UK residents can catch any of the three major continental club cup competitions. For the 2022/23 season, BT will show 420 matches across the Champions League, Europa League and much more recently established Conference League. Paying £400m a year for these matches, BT are getting a lot of bang for their buck compared to their Premier League arrangement which costs more than twice as much for around eight times fewer matches.
BT are also very active on YouTube so you will find highlights of European matches on their official channel. For the 2021/22 season, they even broadcast the finals of the Champions League, Europa League and Conference League on the video hosting site (and on their own website), meaning it was completely free to watch. It has not been confirmed whether or not all three 2023 finals will air for free but as this was not the first time BT has done this, there is a very good chance.
European Leagues
Now lets have a look at where we can watch our favourites leagues from around the continent in 2022/23.
La Liga
Should you be keen on football taking place in Spain, it is possible to watch some live matches, albeit not too many. Premier Sports first struck a deal in 2019 with the Spanish top-flight to air their action live and this is something they renewed ahead of the 2022/23 campaign. The UK and Irish channel will also support La Liga's in-house channel, LaLigaTV although this is also something customers can access via Amazon Prime.
Bundesliga
The 2021/22 Bundesliga season saw an average of 3.12 goals per match, significantly more than the Premier League (2.82) or La Liga (2.5) so it is a great league to watch if you want to see plenty of goals. For the German top-flight it is Sky Sports who are the exclusive rights holders in the UK, having penned a four-year deal in 2021. You will not be able to catch every match but usually Sky will broadcast one premium fixture each week, plus some German Super Cup clashes.
Serie A
Italy's top league may not be in its prime years but it is still a fantastic division full of some big stars. For UK customers, you will need a BT Sport subscription to watch any live Italian football as they are the exclusive home of Serie A football. The current arrangement was agreed upon in 2021 and will run through until 2024 and it includes a large number of matches, around 200 per season (at least five per week on average). This means that football fans in the UK have access to as much Italian top-flight as they do English top-flight!
Ligue 1
Moving onto the last of the 'Big 5' leagues now and it is BT Sports again that is solely in charge of airing the action from France. As with Serie A, their current deal will run through till 2024 and with this they receive the rights to show a lot of matches. BT's extensive coverage of the Ligue 1 will see around 200 matches broadcast live and you expect most PSG games to be covered thanks to their star-studded squad.
International Football
International football is normally reserved for the short international breaks and the summer tournaments, but the 2022/23 season will feature a winter World Cup for the first time. Who has the rights for all these games?
World Cup 2022
The World Cup would ordinarily have come and gone by the time of the main 2022/23 footballing season but not on this occasion. Playing a summer tournament was not feasible due to the heat in Qatar (regular highs around 40 degrees in June/July) so FIFA took the decision to delay this edition of football's greatest tournament by several months. Now taking place across November and December, although it disrupts many league competitions which have been forced to go on pause for several weeks, there have been no changes from a broadcasting perspective. ITV and BBC will divide content between them, ensuring absolutely all games are covered including every group stage affair. There will be no overlap until the final though, only then will the BBC and ITV fight for viewers on Sunday 18th December 2022.
Nations League/Euro 2024 Qualifiers
The World Cup is not the only international football that will take place during the 2022/23 season, although it is the major highlight. In addition to the globally-followed tournament, international teams in Europe will also face Nations League matches and a few Euro 2024 qualifiers towards the end of the season. For these, all England matches will be shown live on Channel 4 as well as extended highlights. Scotland and Northern Ireland will have all their matches broadcast on Premier Sports while Wales will feature on S4C. For all home nations except England, the BBC will show highlights of the action.
UEFA European Women's Championship
Football fans based within England have the opportunity to watch matches from the 2022 UEFA Women's Euros live in the flesh. The tournament is taking place at stadiums around the country, 10 to be precise, with five in the north of the country and five in the south. Should you rather just watch the action from the comfort of your own home however, you will find that the BBC airs every match. The first game kicks off on 6th July while the grand finale is on 31st July 2022.
What Can I Do if a Game I Want To Watch Is Not on TV?
With far from all football covered by UK broadcasters you can very easily find yourself in a position where a match you are keen to watch is not on BT Sports, Sky Sports, ITV or any of the rest of them. This is not to say though that the match is not being filmed by television cameras and broadcast somewhere else in the world. If you live in India, for example, it is possible to watch all 380 Premier League matches thanks to Star Sports.
Unfortunately Star Sports is not available to UK customers but to bypass this geographical restriction, some people have reportedly tried using a VPN. This is something that can trick websites into thinking you are based in a different country, for example India, thus enabling them to buy an otherwise unavailable subscription. Using a VPN in itself is perfectly legal, however using a VPN to unlock content that would otherwise be restricted is not, and hence this is certainly not something we would advocate.
With no legal alternatives to explore, there is no way of watching football that is not being officially televised in UK, unless you are to buy a ticket and physically attend the match yourself. Although this can be frustrating, you may find that free radio coverage is available from local stations or on BBC 5live and/or Talksport and, for most matches, highlights of the action will be available a few hours after the full-time whistle.